A few months ago, I was telling Kate that Marty had some long service leave that he could take this year, and she kindly pointed out that I had been in my current job (parenting) for over 11 years now, and was due for my own long service leave! I was so pleased she pointed this out to me! Unfortunately I never actually signed a formal contract for said current position, nor were any terms discussed or agreed upon regarding leave entitlements. I have always taken my holidays on an ad hoc basis and only when a suitable temporary replacement was available (thanks Gran and Grumpy!!) but I wasn't put off by this technicality, and started the process of meeting with HR, and filling out the necessary paperwork to have a few days and nights off.
A week or two would have been completely heavenly, but that is a lot to ask of my parents, and the kids as well, so after some negotiating, a four night getaway was agreed upon! Marty and I compared calendars and locked in some dates, which just happened to be a week after we got back from our snow trip I had been planning. Aaaaaaah. A holiday after our holiday. Genius!!
We then had to decide on a destination. We considered heading up to Cairns to catch up with friends and explore the area together, but with flights and travel in general being so volatile, we thought it best to stay within driving distance. I then proposed Stanthorpe which we considered for a while, but decided it was a bit too far to drive, plus we started thinking it might be nice to go somewhere neither of us had been. So I started looking closer to home, and somewhere I've never been (that I can recall, other than maybe driving through) was Tamborine Mountain. At just over an hour's drive away, and lots of little things to see and do, it ticked the very few boxes we had!
I found a cute little chalet on Gallery Walk, we booked in the dates, and I started to get a little excited. Yes, months in advance! After our upcoming holiday to the snow, I knew that a little kid-free retreat a week after would be a magic way to unwind. And I wasn't wrong! Apart from it being a little hard to leave the kids (for them, not me…. sorry Quinn!!) and a few delays on the day, we drove off around 7pm on Sunday night. As we wound our way up the mountain, I started to relax; as we arrived at the chalet, I allowed myself some excitement; once we were on the couch, with wine and cheese and some quiet and stillness, I finally believed we were there. We had arrived. It was happening! The chalet was a little bit random in some ways, and a bit over-the-top with the spa bath in the main living area, but it was all it needed to be, and I was just so ecstatic to be there.
After an amazing night sleep and sleep-in, we spent the first morning on our respective laptops catching up on various things; me blogging and making a photo book from our snow trip, and Marty planning his snow trip to NZ with his boys in September. Around brunch time, we wandered up the driveway to see our surroundings in the light of day, and decided that the first cafe we happened upon would be perfect to fill our tummies. It was soooooo delicious. The eggs Benny was huge and tasty and Marty enjoyed his big breakfast, as well as some of mine which was just as big! We then just spent the next few hours wandering up and down Gallery Walk, looking in shops, doing wine tastings, and sampling local made fudge, all the while looking at each other adoringly saying soppy things like "I can't believe we are here! How great is this!? I'm just so happy to be here with you! How great is this sunshine!?" and all that jazz.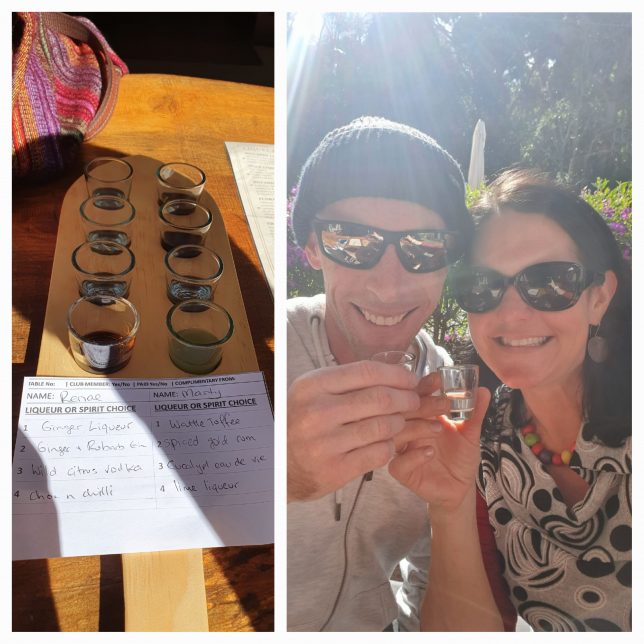 The sun was out and bright and warm on Monday and we wrapped up the day with a bottle of wine and some Thai food from the restaurant two doors down. Another great night sleep and we were ready to head out again the next day. I had had a cough for a while at that point (maybe a few weeks) which has now turned into a chest infection, so even though I was keen to go on a walk, I was also okay to lay low, so we headed out for brunch in the set of shops on the next hill over (maybe 3km away) and again, the food didn't disappoint. We shared the baked eggs with sourdough, and fritter stack with haloumi and poached eggs and both really were so delicious. We then headed to the two local op-shops (of course we did) and on the way home, sussed out a winery to catch a cab back to.
We spent the afternoon at Wiches Falls Winery and it was kind of magic.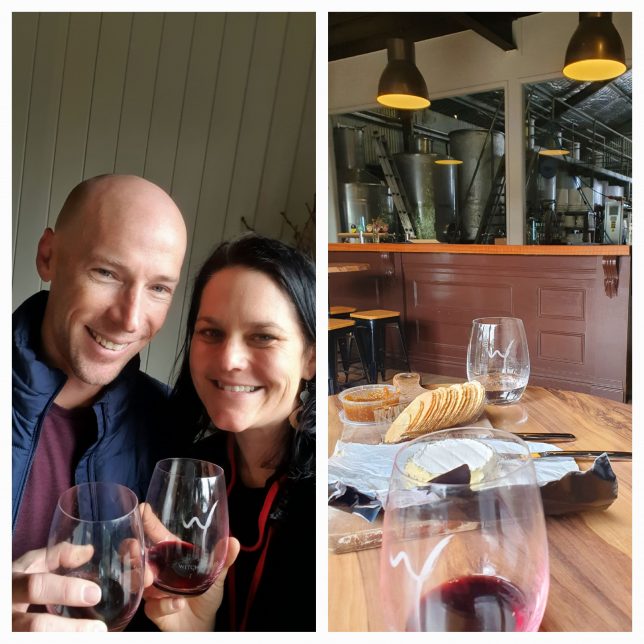 We were lucky enough to get a cab easily there and back, and after another drink or two back at the chalet, we wandered up the driveway once more and headed to the pub at the end of the street for a cocktail or two, a mountain of chicken wings and a rack of ribs that we really didn't need! But were super tasty nonetheless. We rolled home and settled in for some Brooklyn 99 and content cuddles on the couch, as well as more "how great is this??" comments.
The next morning, our last full day away, I woke up feeling a little bit sad that it was all coming to an end, but it was short-lived as I focused on the fact that we still had a full day and night together to do whatever we wanted. So we headed back to the pub at the end of the street to check out their brunch menu which was very tasty. We then tried to get a cab to another winery with no luck, so we drove to Cedar Creek Winery for a tasting. We had spent over two hours at Witches Falls the day before, with the full experience, and we were hoping for something similar that day, but it was more a splash and dash affair this time. Though, I actually enjoyed these wines a bit more than the previous day's which was a bit surprising. On the drive to the winery I had noticed Fortitude Brewing Co which had been recommended by a friend, so after our quick winery visit, we dropped the car off and walked back to the brewery to settle in for the afternoon. Or at least for the two more hours it was open.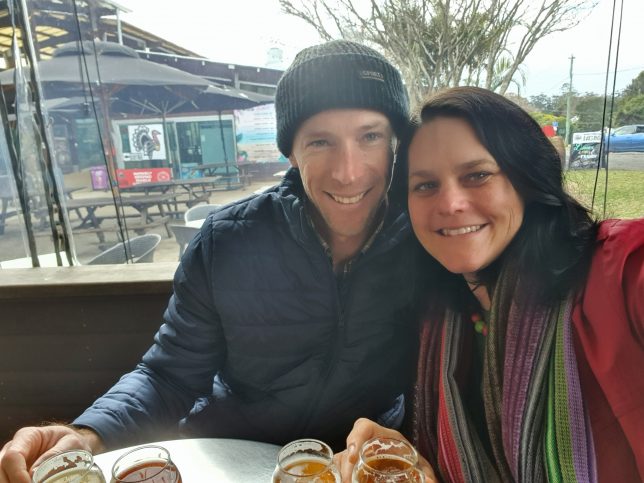 We grabbed a few tasters and made our way through the paddle, critiquing as we went along like the experts we are (ha!). To be honest, their ginger beer was very reminiscent of Dad and Kristian's infamous alcoholic ginger beer of the early years of brewing. It was spicy and not too sweet and just super tasty. I didn't want the afternoon to end, but it was time to wander back to the chalet after 3:30 (so early!) for some more pre-dinner wine and cheese, and to work out the place for our final dinner. I had a quick look, and 1.2km walk away was an Italian place that had great reviews so we grabbed a bottle of Prosecco and headed on down.
When we arrived, we realised it wasn't a restaurant, but actually a takeaway place with a few tables and chairs to wait at, but they had "corkage" on the menu so we decided to "dine in". We ordered a pizza, a pasta and a gnocchi and popped our wine and resumed the chatting that had continued for days. It was so cute and quaint and we were sat at a table with two of those old style cushioned high-back chairs and I kept thinking "I should take a photo" but I also didn't want to interrupt the experience for doing so, so it never eventuated. The food was so delicious. Honestly, the pizza base was so crusty and crispy and everything was really tasty. Again, we wandered home without a care in the world for our final night of scrabble and tea. Yeah, we lived LARGE!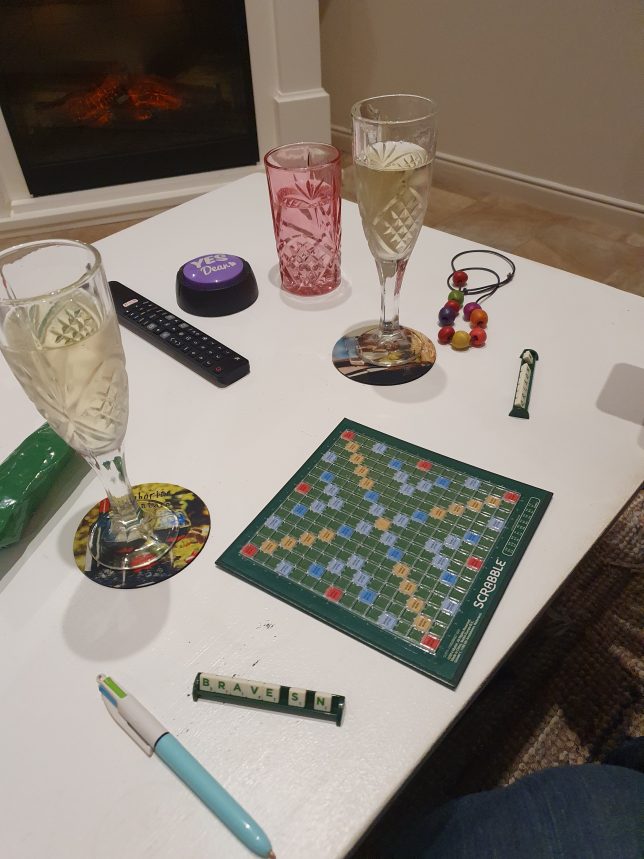 The next morning was drizzly and foggy and although one more day to just stay inside and read would have been such a bonus, I was so grateful for our time away. After one more stop for souvenirs for the kids and a little something for me, we headed back home to get ready to pick the kids up from school that afternoon. Honestly I'm still floating from the experience. That uninterrupted time to really connect and talk about everything and nothing; those quiet moments of peace to just be still; the gift of feeling grateful and blessed to have parents who will step in and be extensions of me, where my kids feel safe and loved and taken care of. All of these things fill my heart and I certainly don't take any of it for granted.
It was so great that I may not be able to wait another 11 years for the next one 🙂