Wow. Just wow. This trip was three months in the thinking/planning/making, and we were rewarded with an incredible experience that the kids will be talking about for years to come, I'm sure. Or at least until the next snow trip they are already planning…
When Marian said to me, over Kris & Kate's kitchen table back at Easter that it might be their last winter down at the snow (Mount Buller) and living in Mansfield, I pretty much decided there and then, much to Maz's delight, that it was now or never for us, and that I needed this trip to happen. She could provide the accommodation in the form of her mum's house (thanks Jane!) which is just down the driveway from their house, on the same block. From there it was looking at ski lift passes, ski lessons, car hire, ski gear hire, flights, snow gear for sale on marketplace and op-shops, and even menu planning. Oh and among all of that, I convinced our mutual friend Vicky to also come along with her husband and 18 month old.
I love planning holidays. Absolutely LOVE IT! So I was in my element. I asked Marty if he would like to come along with us, and he jumped at the chance, having never been to the snow before. I spent the next couple of months at op-shops and picking up things I had found through fb marketplace, as well as borrowing a few things here and there, and I had almost everything sorted by the time we left.
I flew down with the kids on the Thursday of the first week of holidays, and Marty was to join us on the Sunday. The flight down was very smooth on all accounts, and before we knew it, we were picking up our hire car, soon to be named the Black Panther, and heading to Mansfield.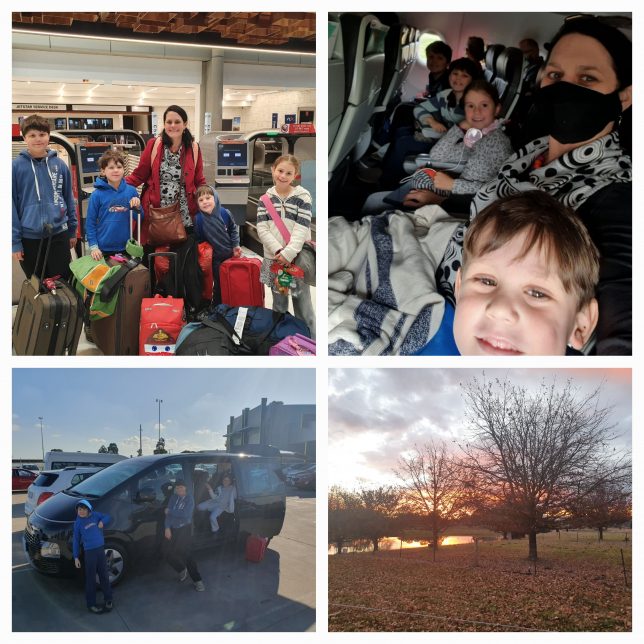 The first night was full of catching up and feeling at home away from home with friends we have known for nearly a decade. The next morning we headed up the mountain for the kids' first taste (literally, let's be honest) of snow! Of course they we blown away.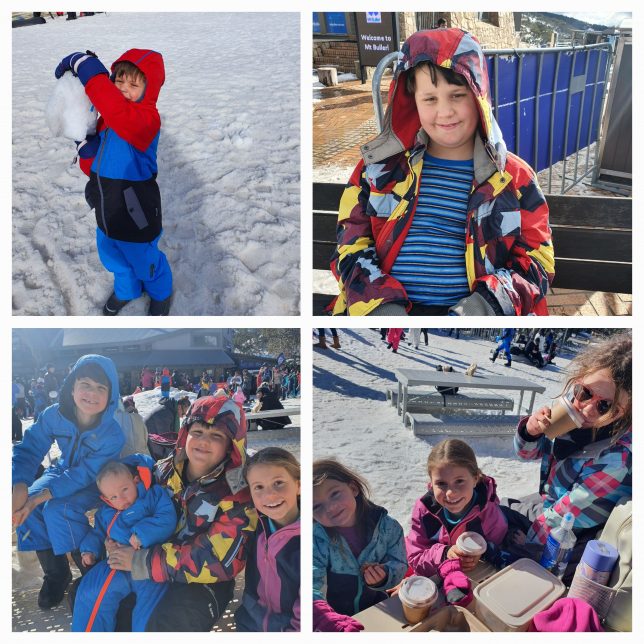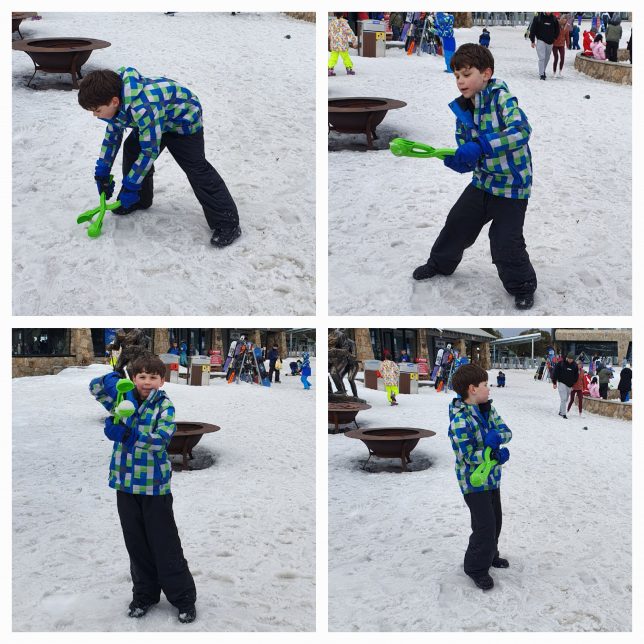 That night we had a little birthday celebration for Maz which included us ladies sneaking out for a yummy cocktail while Heath and Tim held down the fort. Then it was back up to the snow fields the next day for some more fun. It was Saturday by then and ridiculously busy, with the line up to get up the mountain around 7km long by lunch time. Thankfully we were heading home by this stage so we weren't affected but I really did feel sorry for all of those people who would have missed out.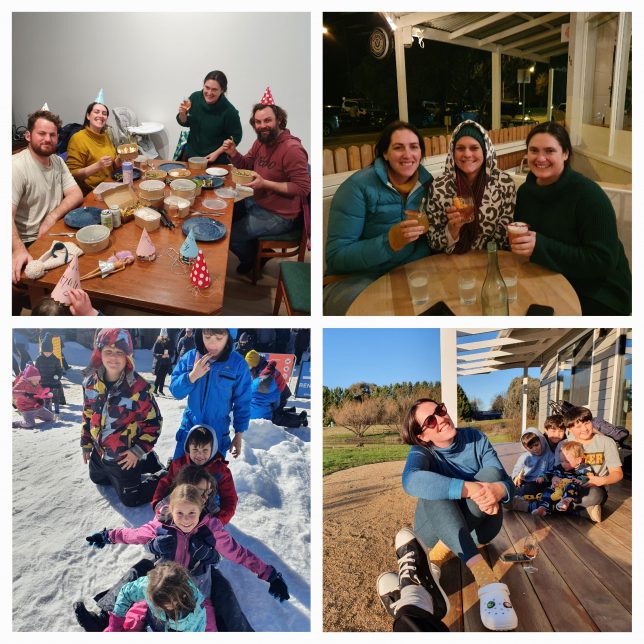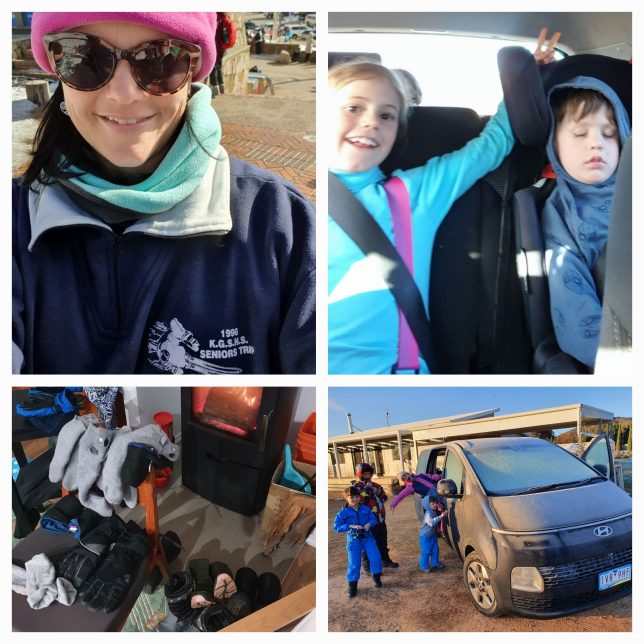 We caught up with our friends Lea and Eoghan who made the trip from Albury to have lunch with us on Sunday, and said goodbye to Vicky, Tim and Teddy. Marty arrived by bus (after his flight) after lunch. His presence and assistance are always welcome and we set off to get fitted for, and hire the ski gear. I admit I was pretty stressed that evening, with the thought of getting the kids to ski lessons, carrying lot of gear, and not being 100% familiar with the areas we needed to be going to, but I knew that Maz, Marty and Heath would be a huge help so just tried to put my faith in that and trust that it would all go to plan.
The next morning was a little hectic, but everything went to plan and everyone got to where they needed to be with not too much fuss. Marty had booked in a snowboarding lessons which he got to with no dramas and the relief I felt when everyone was where they were meant to be was palpable. We did it!!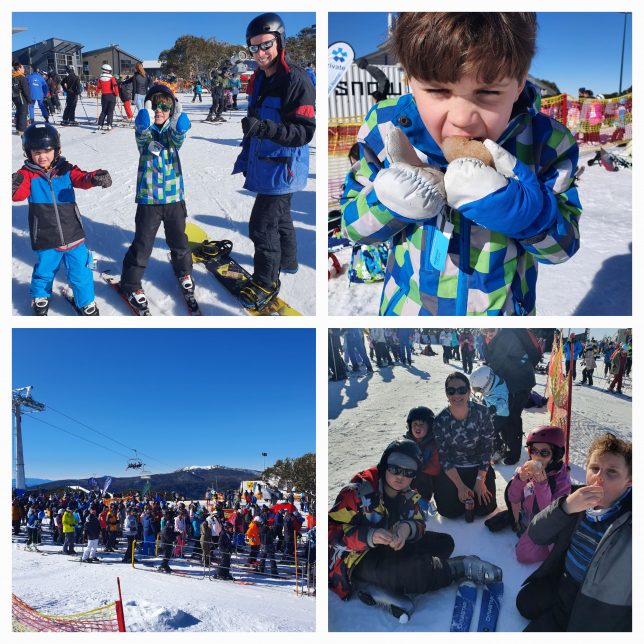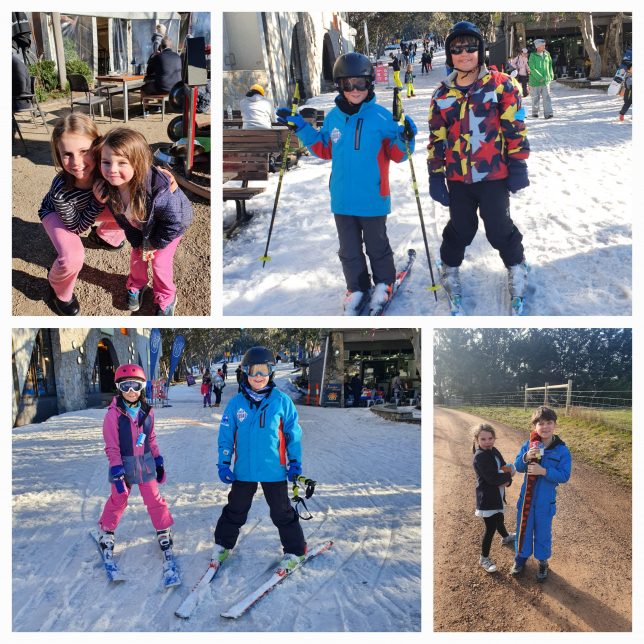 Evenings were spent with easy dinners, ice cream for dessert, wine and chats, kids running amok, and just generally feeling grateful for good friends and making more wonderful memories together.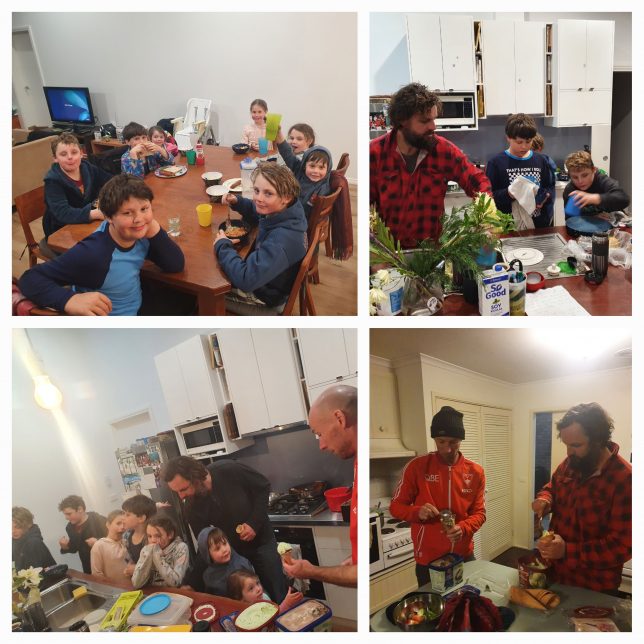 There's more to come in another blog post! Stay tuned…. 🙂