Gosh I just cannot stop smiling. I submitted my final exam for my course yesterday, and my lecturer kindly marked it asap and I got my results back today…. and I have officially passed the whole course!! This was my workstation yesterday!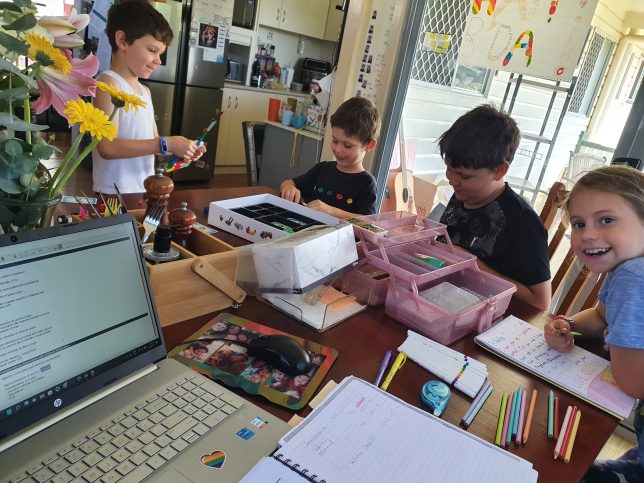 The kids in iso have been a mixture of absolutely amazing (see above) and driving me completely bonkers (two hours after this photo!) But thankfully they were good enough for long enough for me to get the exam done.
I want to say a MASSIVE thank you to everyone who has been cheering me on, near and far, for the last 18 months. Thanks to Mum and Dad for your constant support and for always having the kids. Get better soon Gran!! (Yes, we gave Gran covid… 🙁 ) Thank you to all the school mums who have put up with me complaining for the last two months at school pick up/drop off! Thank you to school mum Kylie for telling me two years ago that of course I can study, I just have to start. It was honestly one of the tipping points to just get in and begin and I'm grateful for those simple words! Thank you Al for all the love and pie! Thank you to everyone who has encouraged me and believed in me, when I lost belief in myself.
A month ago I genuinely felt stuck and just wanted to get it over with, feeling like I wasn't going to get over the line. Then my friend 😉 helped me see a way forward and I put my big girl pants on, and after some time reviewing lectures and notes and everything I could get my hands on, things finally started to make sense. It was such a relief on Monday morning to get the results for my exam from last week before I started this week's exam. I finally knew that I could do it. I'm feeling pretty damn proud of myself right now. 🙂
I know that the story we tell ourselves is powerful and sometimes can get very out of hand if we don't have people around us giving frequent reality checks. I'm so grateful to be surrounded by such people and I cannot WAIT to celebrate together in person, sometime soon.