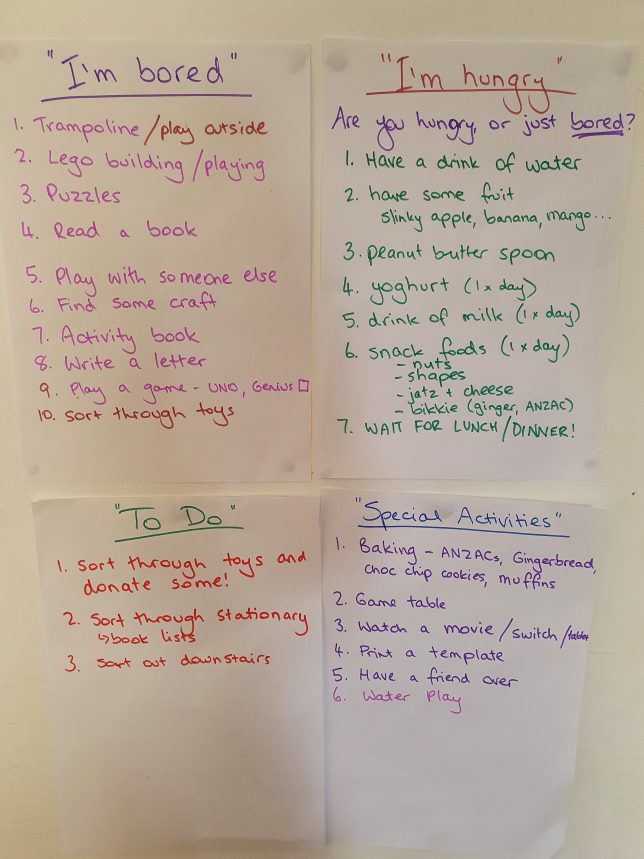 School holidays. Aren't they fun? Well actually I think they mostly are. It's just the first few days that are always a little rocky. I told the kids they couldn't turn screens on until 6:30am these holidays. That backfired a little this morning, as from 6am they kept climbing in my bed and asking if it was time to watch.
That was not the idea. The idea was that they read or make themselves breakfast and get dressed first. And the fact that they were all kind of half awake (and in turn, so was I) from 5am has not helped the mood.
I know that I'm the biggest contributor to the mood of the house, and the last few weeks have seen me the happiest and more "myself" than I have in 3 years. But today I just don't seem to have it in me. Sleep deprivation certainly plays a part, but it's also that we don't have anything planned until this afternoon. I think I'm also coming down off the high of having my friend Kelly here for a few days…
I wrote the above lists yesterday, after we had the usual start to the holidays. The kids know to check the list before they bring their complaints to me. I could genuinely fall asleep on the couch right now. I wonder if the kids will notice….