Well term four of school is off to a cracking start! The kids are back at Scouts, Quinn has started a weekly drama class (like she needs that!) and swimming lessons are back on. For someone who "doesn't really want to get into Saturday sports because it takes up so much time", we really do have enough on our plates with the current array of activities! But the kids are loving all that they are doing, so I'm really happy to play taxi driver. I should run the meter some time…
Here's other stuff that's happening!
The kids made pancakes all by themselves! Just remember, the first one is always sh*t.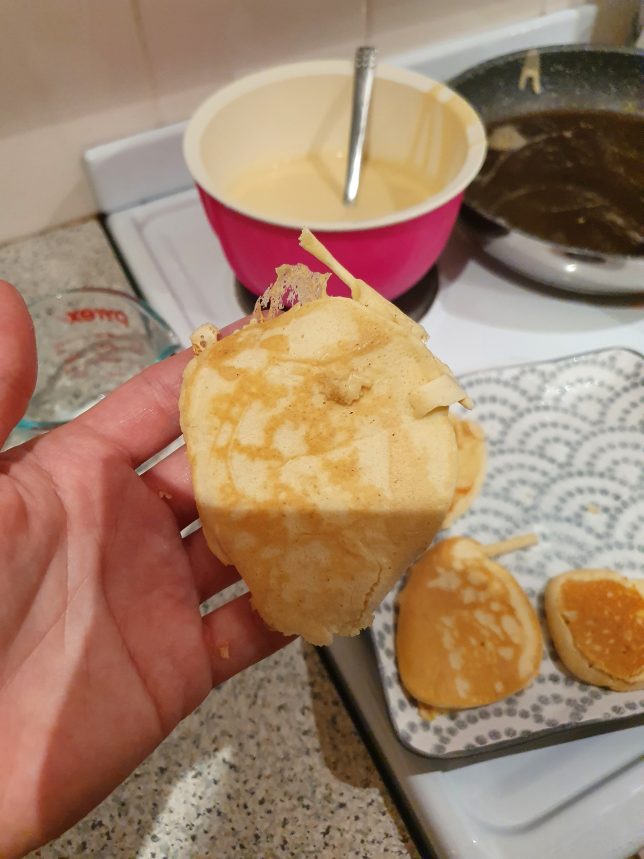 The three boys had hair cuts this week. Shout out to our gorgeous hairdresser Nikki who lives and works out of her home around the corner from us. There's something to be said for a great hairdresser who's place you can bring your kids to with no shoes and be showered with smiles and plenty of understanding. Thanks Nikki! Such a legend!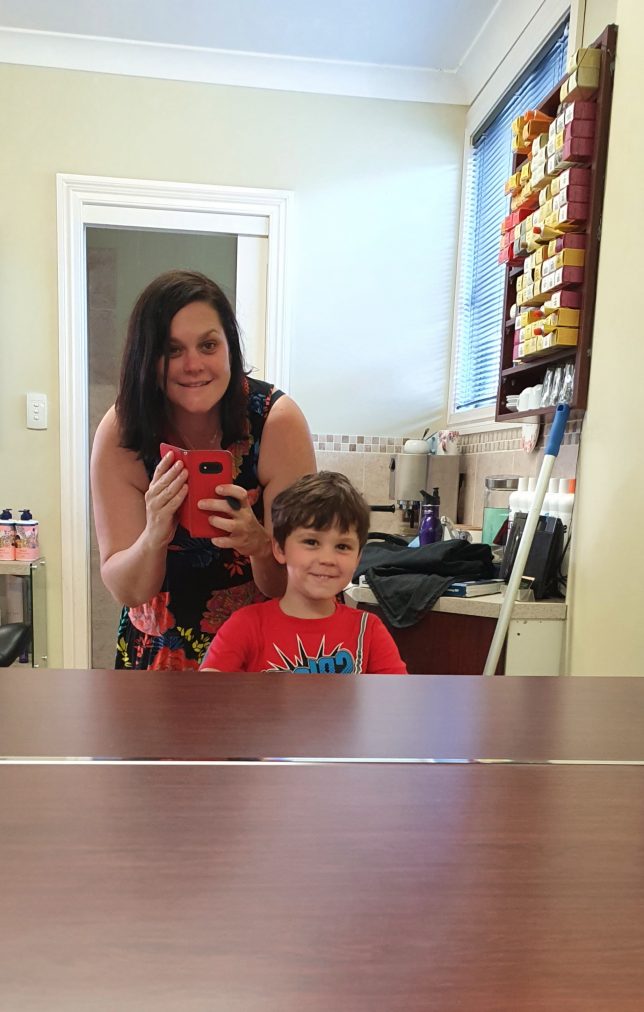 This photo shows off the boys' hair cuts, as well as the fact that sometimes my kids are freaking delightful in the mornings before school. We are all up and out of bed (mostly) just after 6am each morning now, so there's over two hours of time to get ready and play play play.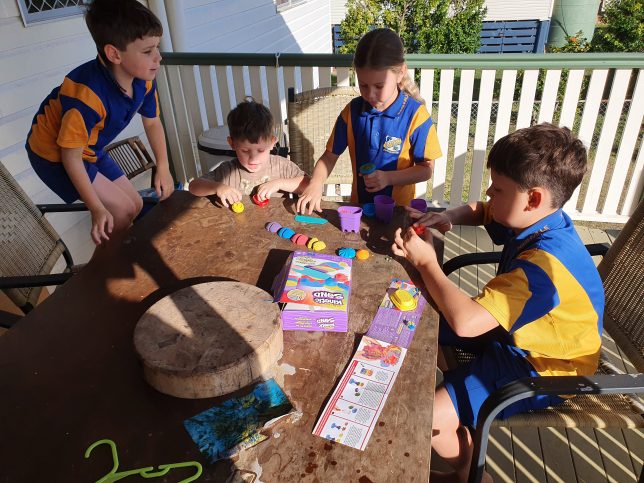 This morning, after they played with this kinetic sand for a while (thanks Ouma!) I asked if they wanted to help me try and replace the old, torn trampoline mat with the new one. I was super skeptical about how that would go, but we did it from start to finish in about 35 min and the kids felt a real sense of accomplishment and were so happy they got to help. It was a very timely reminder that my kids are very capable and I can start asking them to help me a bit more. They'll be thrilled about that, I'm sure!
We are super crazy about this new game, The Genius Square. Guys it's the best!! One of the couples at our Mount Glorious weekend away brought it along and I got so hooked and loved it so much I bought in the next week for us to play. It would be such a great Christmas gift!!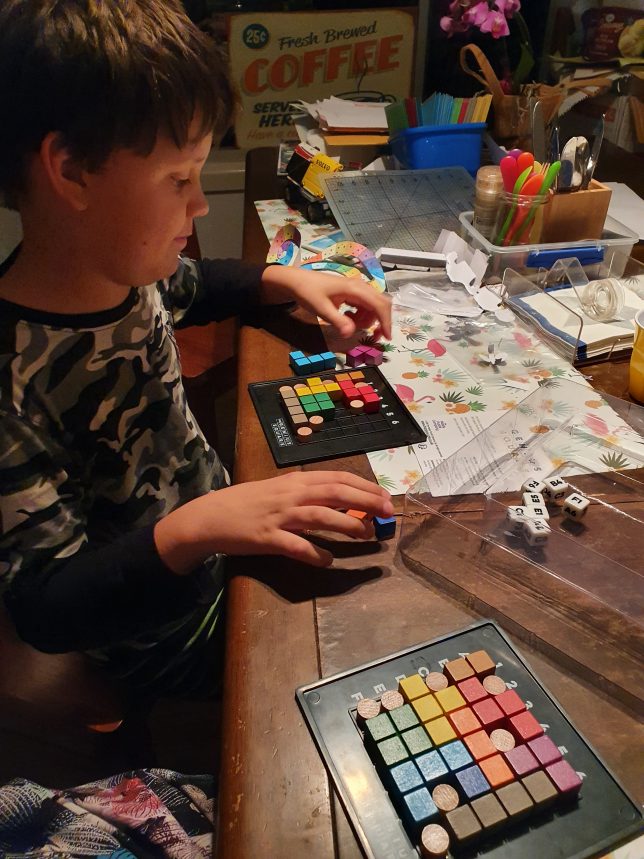 This is a sneaky-peek at Darby holding something that I cannot wait to tell you guys about. Watch this space!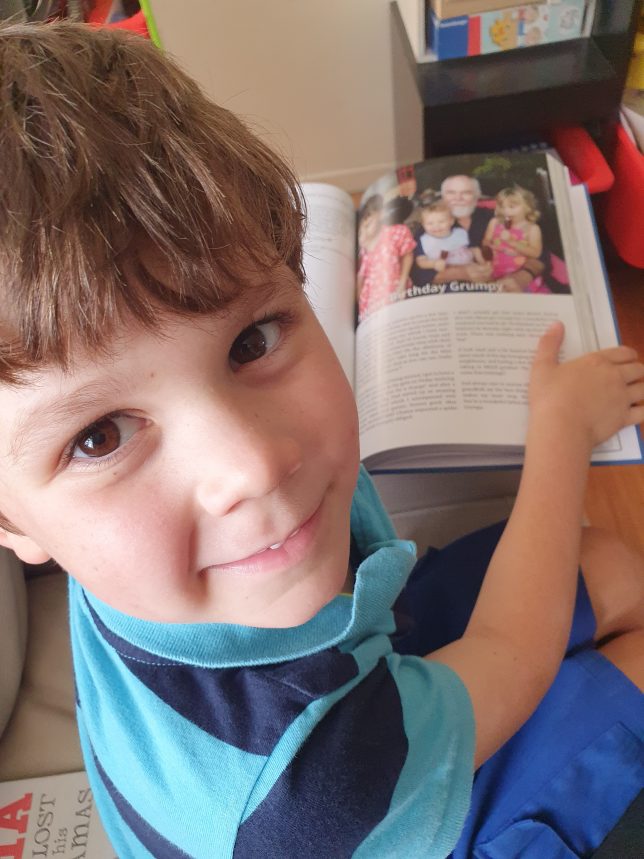 That about sums up our lives at the moment. The kids are happy and healthy and I am keeping busy enough. I started a Cert IV in Clinical Classification about six weeks ago. It's a one year course and so far my brain is doing an okay job at remembering how to learn and retain new information!
One last thing. A HUGE shout out to all my Melbourne friends and family. You guys are incredible and resilient and amazing and we are all so grateful for the sacrifices you have had to make. I really hope the end is near and you all deserve a freaking medal for all you have been through this year. Just sending so much love and cannot wait until the virtual hugs turn into real ones. What a glorious time that will be.