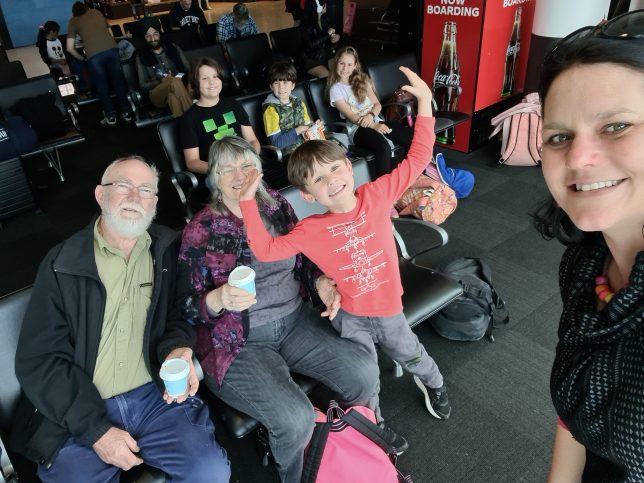 Ah Melbourne, how I love to visit. Back in April, when tickets to PAX Aus were released, I snapped up six tickets for the Friday and planned a trip around that. day. I chatted to Gran about making it our family holiday, and when I found cheap flights and reasonable accommodation, Gran was all in, and assured me that Grumpy would be happy to come along for the ride! So I booked us in from Wednesday to Tuesday, with the kids missing five days of school, and putting it down to extra curricular experieces! Marty was also able to join us from Saturday evening which is always an added bonus 🙂
One of my aims since August this year, is to not live such a rushed life, so when planning the holiday, instead of my usual style of cramming in catch up after catch up, I planned one thing each day (mostly) and just went with the flow.
We had a smooth trip down and arrived at our lovely accommodation in Carlton and Kris and Kate joined us for dumplings and Chinese takeaway for dinner. The next day I had bought tickets to the Relics Lego Exhibition which was only 1km or so from our accommodation, and in no hurry whatsoever, we left home on foot with Uncle Khicken in tow, and met up with Erika and Finn for an amazing museum visit!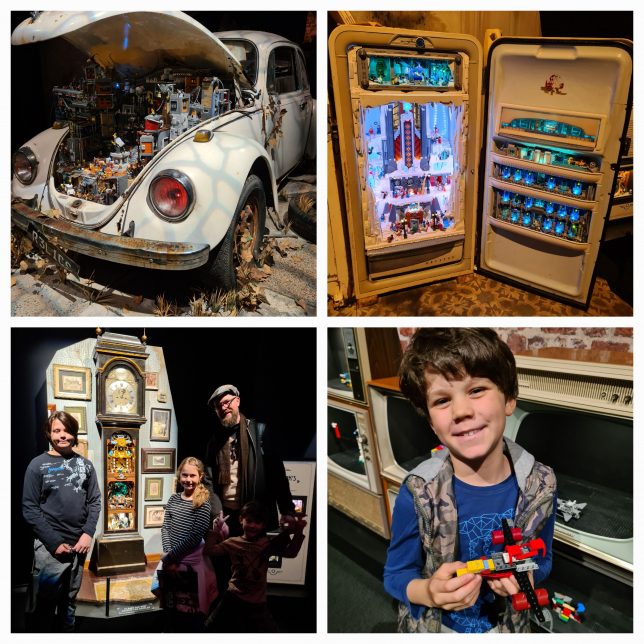 I have been to many Lego exhibitions in my time, and this one was certainly one of my favourites! There was so much to see and do and it kept the kids engaged for over an hour. Darby spent at least half the time building his own creation which is always super impressive!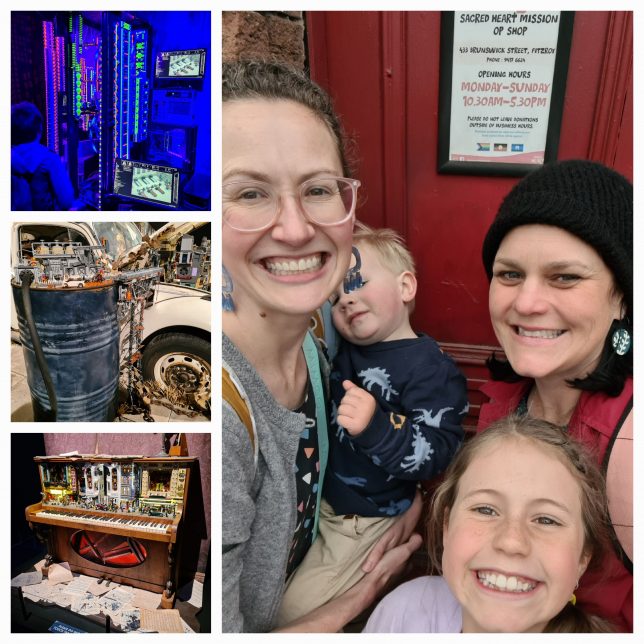 It was an absolute treat to hang out with Erika and Finn for hours, between the Lego exhibition, heading to the playground right next door, then having sushi together for lunch, and then hitting up an op-shop of course!! Aunty Kate met us for lunch as well, and then Uncle Khicken took the boys for a quick tram ride, then headed back to his place to wait for us to catch up. We also met up with Uncle Jacques that afternoon, and as it happend to be his birthday that day, he and I headed out to the Carlton Wine Room for a very special birthday dinner.
The next day was PAX and I'm so grateful for Jacques for sticking around Melbourne for the extra couple of days so he could come with us. He was over from New York sorting out Visa things, and he was the absolute perfect person to accompany us!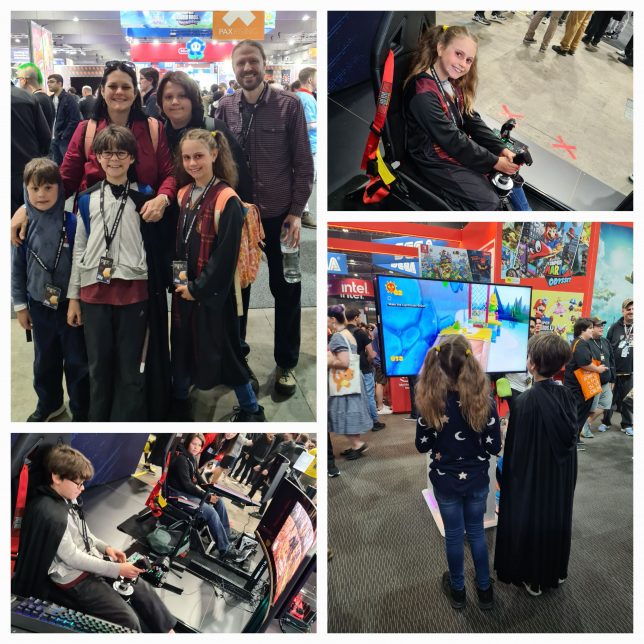 PAX is quite an intense experience, as it's so crowded, and there is SO MUCH TO DO. It would have been near impossible for me to take the four kids on my own (that's why I bought the extra ticket from the start – I knew I could find someone to come along!)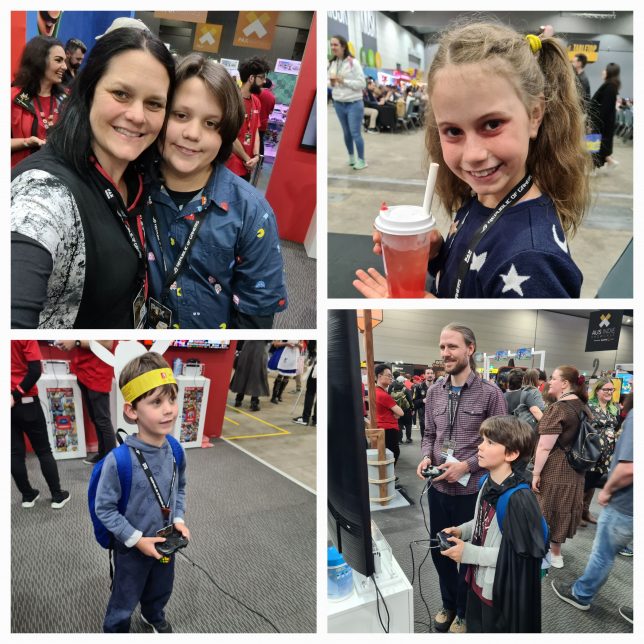 We left home just after 9am and didn't get back until 6pm. The kids spent most of their time at the Nintendo gaming area, playing new games and some classics as well, which meant they were mostly entertained and occupied. They each had an hour one-on-one time with Uncle Jacques to do whatever they wanted which was so great, and we found some bubble tea and cheeseburgers which are basically my kids' favourite foods.
Even though I was rather exhausted when we got home, I had a quick sit down before leaving the kids with Gran and Grumpy, and heading out to dinner with Kris and Kate, before heading to see The Whitlams with Kristian. I was hoping for some seating, but to be honest, once we got in there, and I saw the stage all set up, my second wind kicked in big time.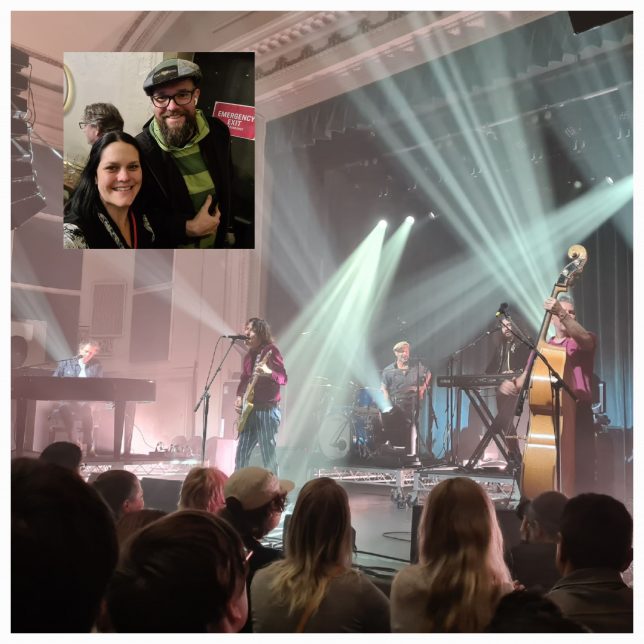 The Whitlams are currently touring with the bass player from The Living End, and oh wow. Just wow. Every time I see The Whitlams in concert, I am high off the feeling for days. We got an amazing spot near the front, and close enough to see them pull of this ridiculous double-bass stunt!!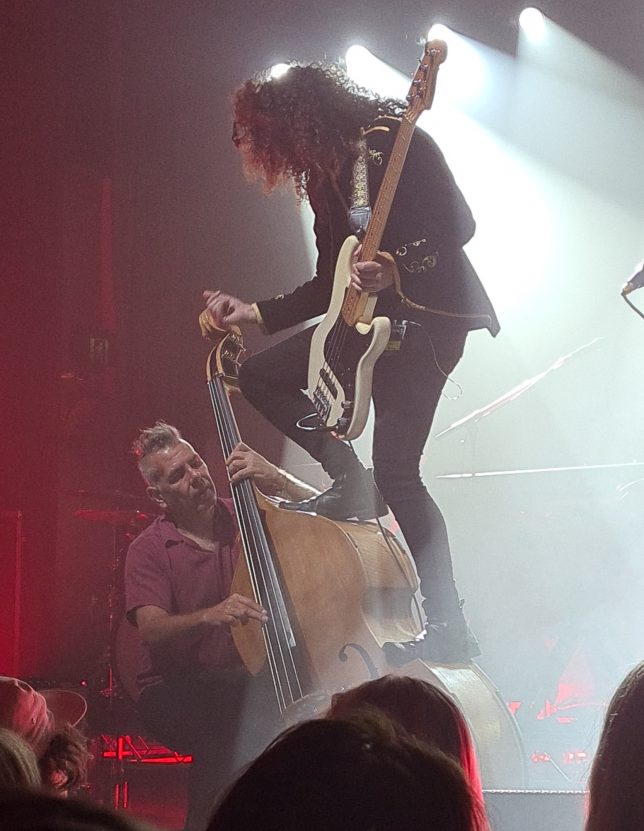 Yes, that is a guy playing bass guitar, standing on top of a double bass being played!! It was everything I had hoped it would be, and then some. The energy these guys still have after decades of playing together is so impressive and I'm still smiling from the memory.
More stories to come!…