Last weekend, Chance and I both participated in our first ever Scout camp. The group that the three boys belong to (Darby and Julius are currently Joey Scouts) are so fantastic and they regularly run camps. They always have plenty of male leaders, but sometimes they need a female volunteer to come away with them, in case any "female issues" (or dramas!) come up. I would normally not be able to take on such a role, but asked what would be involved nonetheless. They really sold it to me by telling me I could do as little or as much as I wanted, but was welcome to just sit back and relax and enjoy the weekend. And they would even cook my meals, including a pork spit roast for dinner Saturday night. And I knew for a fact that one of the leaders is a professional chef! It was all a bit hard to say no to!
The planets aligned and Gran and Grumpy were free to look after the other three kids, so I let the Scout leaders know that I was free and keen to come along. It was then that I found out we were actually "camping", like in tents (I had presumed there would be cabins/dorms) but I was keen to embrace the rustic conditions, as long as there were toilets and showers. Except that there weren't! Ha! Well, there were two port-a-loos, and I figured since I would be sitting around doing not much all weekend, showers weren't that necessary! So Chance and I packed our things and off we went on Friday night to Murrenbong Scout Camp.
We arrived after 7pm and I watched the flurry of activity as 25 Scouts (aged 11-14) and half a dozen leaders set up camp kitchens and tents in the dark. It was pretty impressive I must say! And true to their word, I didn't have to do a thing. I even had my tent set up for me. So far so good. The night was lovely with a full moon rising around 9pm and I headed to bed around 10. I think the Scouts got their final "go to sleep" warning around 11:30pm and were up again just after 5am!! Thankfully I rolled over with a pillow on my head (I'm glad I brought three!) and managed to sleep until about 7am.
It was a lovely site to see in the light of day!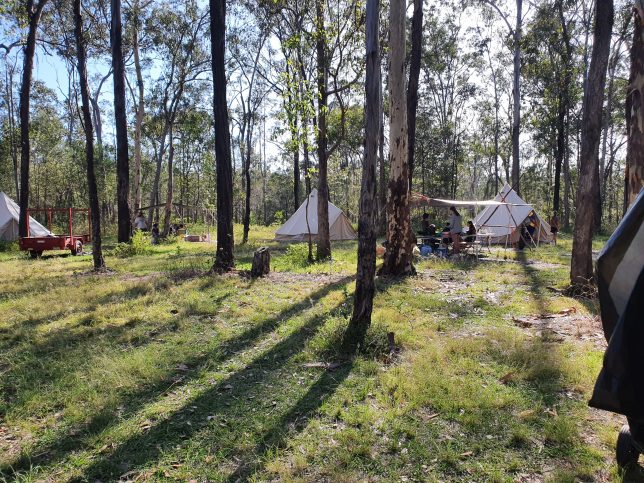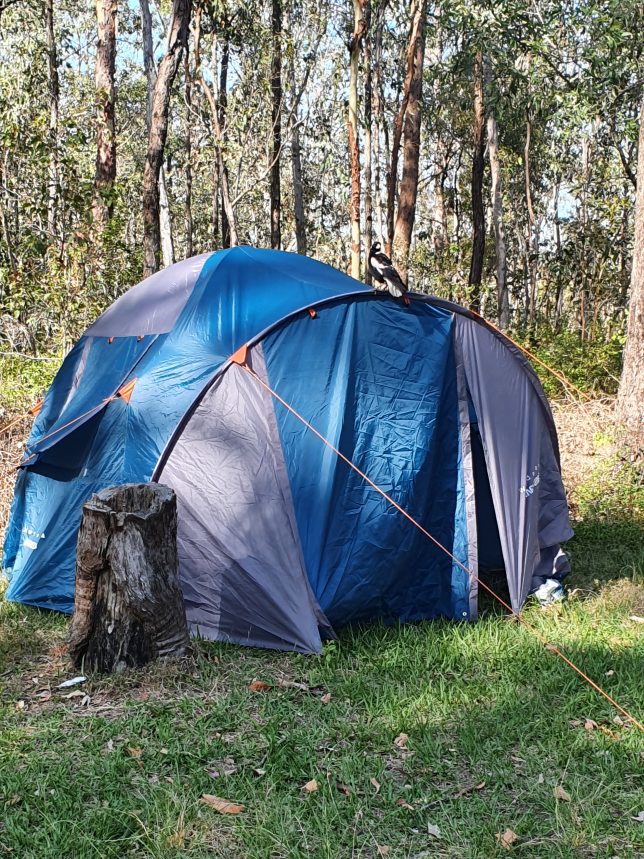 The morning was spent writing in Christmas cards while I watched the three patrols build rafts to get across the dam. It was highly entertaining! They all made it in the end, with one raft being particularly impressive.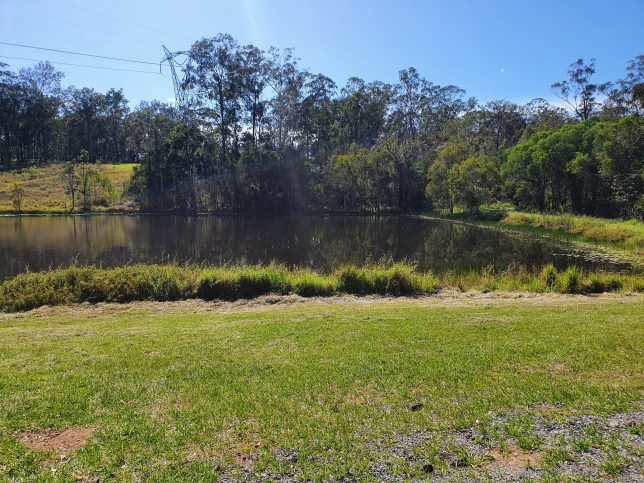 We headed back to camp (100m walk) and the Scouts all made themselves some lunch, mainly sausages on bread, and settled in for a fairly relaxing afternoon. They were encouraged to find their own fun and activities, so there was a lot of wood finding and chopping (supervised) as well as some games of Kubb and UNO when it wasn't too windy. I had started reading this book and was really enjoying the lack of interruptions. Meanwhile, the pork spit roast was turning and cooking slowly (over four hours).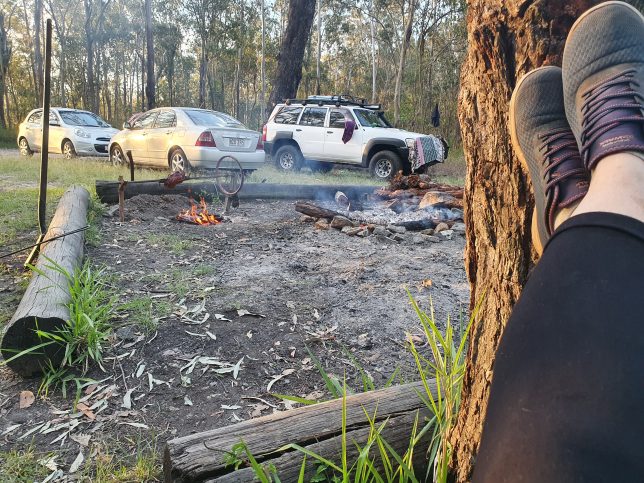 It really made me start thinking about getting the kids back into camping and how fun that would be. And then I realised that this kind of camping (sitting around doing nothing but read a WHOLE BOOK) is not what our family camping trips would look like! Nonetheless, I would like to do a trip or two next year. Let's see if we can make it a reality. Especially if I can learn to make a meal like this!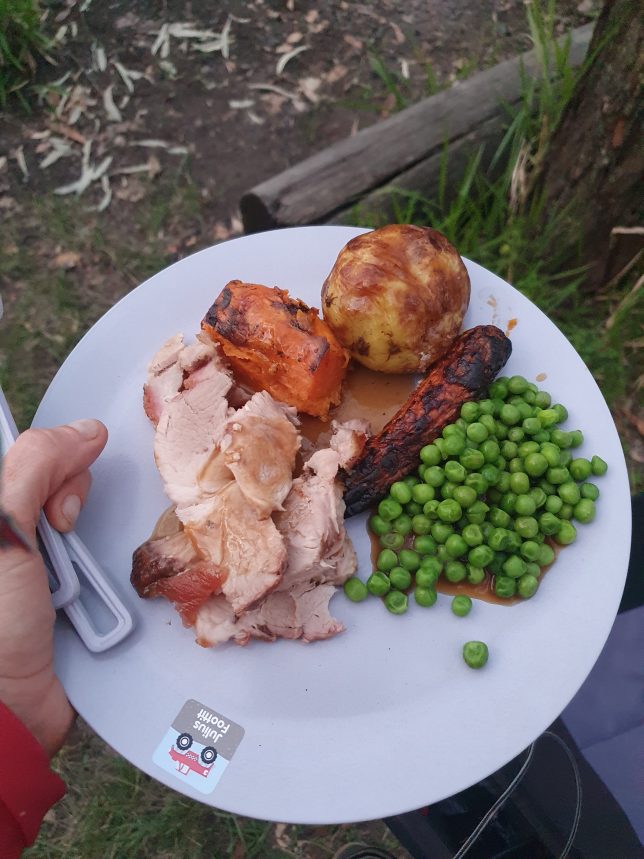 The kids had a night-time game that evening in the dark with torches that went on for over two hours (while I was still reading my book) and came back at close to 10pm. Chance was utterly exhausted, and he and his mate went straight to bed. I followed not long after that and could still hear the other Scouts up past 11!! Not only that, but they were up with the sun and birds before 5am, as was I, and this time I couldn't get back to sleep. So I just picked up my book around 6am and read some more. Brekky of bacon and eggs rolls was cooked for us and then another quiet morning followed.
The kids generally kept themselves occupied, and there were several weary Scouts by mid-morning. They completed and orienteering exercise, then made themselves lunch and started the pack up.
We were home at close to 4pm and Chance and I were pretty spent. He said he enjoyed himself and gave it a rating of 8.5/10! I think I would be happy to go back again if they need volunteers, and Mum and Dad are free to look after the other kids. It was a pretty damn relaxing weekend for me! My only regret is that I didn't get a photo of Chance and I together. It'll have to wait until next time 🙂